Welcome to another free Adobe Photoshop tutorial,today we are going to create an abstract Freestyle Image using textures and your Lasso tool.  I'll be explaining in detail on how I used Photoshop's tools  to achieve the final effect, also I will add some extra tips on how you can make your work stand out and look more special.

Bram Vanhaeren is 19 years old and shares the same passion as his older brother, Graphic design. I've been developing my style since my first pen tool experiments in Illustrator about 5 years ago. My style ranges from simple illustrations and typography to mixed media artwork. When I'm not making art, I enjoy going out with friends, train together with my brothers for the next Athletics competition and I can't resist spending my money on clothes and new fancy accessories. I'm currently a Freelance Graphic designer under the name Into1.be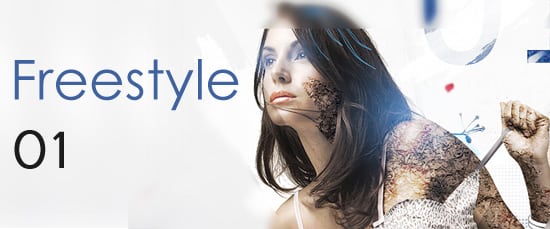 Open your file and drag a paper texture stock to start working. Nobody likes to start working on a plain white background, right? I searched for "paper texture" on sxc.hu to find some nice textures.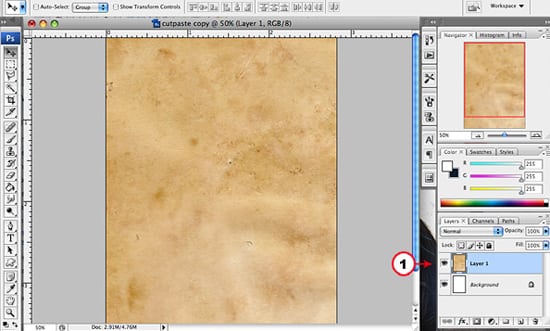 Keep your layers organized, I think it's very important if you work with big .psd and lot's of layers. Now you can easily find layers back and work faster. So keep this in mind and try to stick with it.
Here you can see how I named my first groups.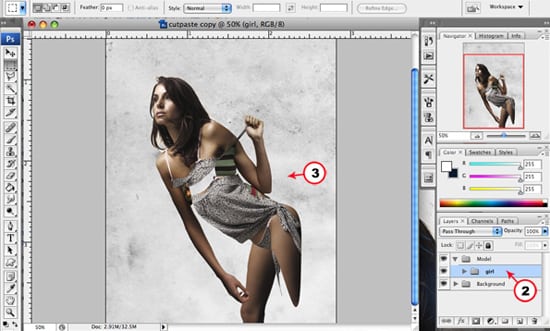 I choose 2 stock photo's from deviantArt where I will play with. I want to freestyle the whole piece so that means play with the models and make something new.
You can see what I did with the 2 models in the picture below. I just cut and paste few parts and played around with it till it fitted.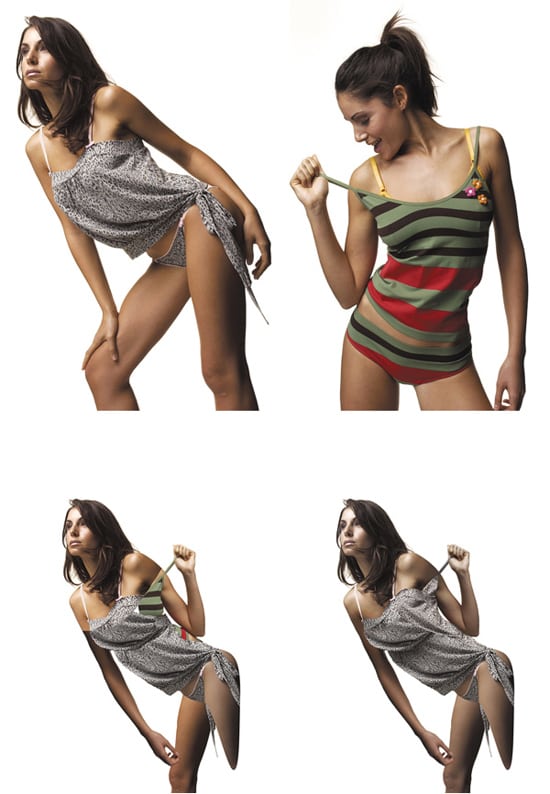 As you can see I had to duplicate parts and place them in the correct space so you only see the panther texture on her clothes.
I also changed the colors with Color Balance and Hue/Saturation. It's easier to get the same skin colors when you saturate the pictures a little bit more.

Once you think you got everything in the correct space, it's time for our next step.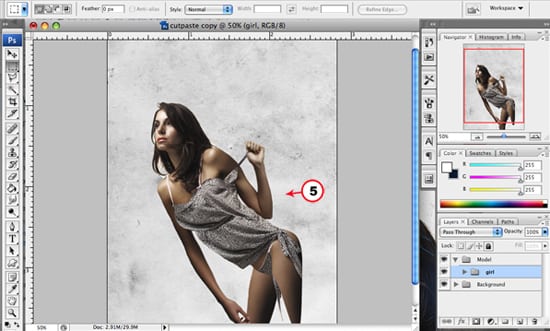 Add a new layer, take a soft round black brush with opacity of 10%, and now try to brush the correct shadows so you blend all the different parts into 1.

Also keep in mind where the lightning is coming from, this is very important if you're working with shadows.
The lightning is coming from the left so brush bit more on the right side where my arrows points at with number 7.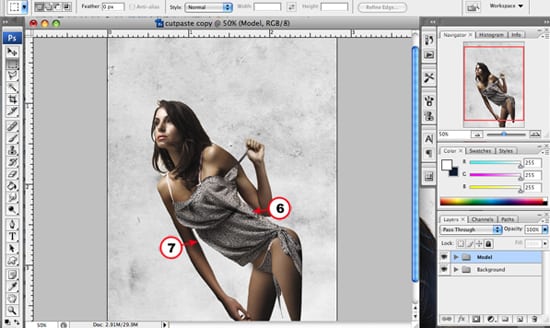 Now have we finished our new model, next we going to start adding some fresh objects and depth. I searched for some green leaves on sxc.hu and found a perfect stock to work with.
Cut out few leaves and place them in front of the model and behind the model. You can also change the colors if you want.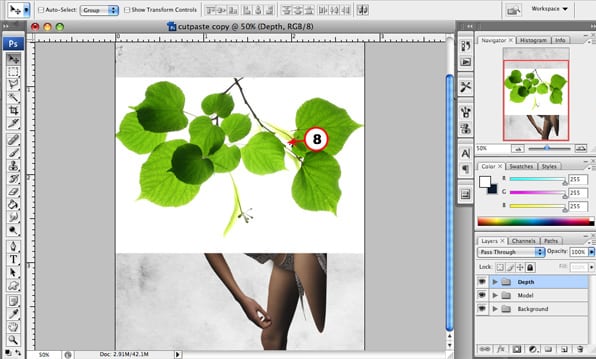 I placed some bigger leaves in front of the model and blurred them (Gaussian blur) this adds depth to the whole image.

Place some smaller leaves in the back and keep them sharp. So it looks they're flying next to our model.
Also add few little leaves in the back and blur them a little bit. Now you just created depth in your artwork.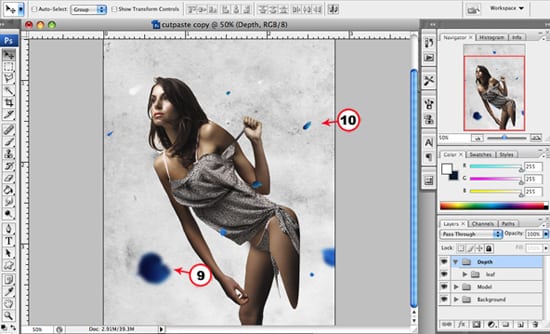 The next thing that we are going to do, is fill our model with a grass texture. Try and look for a stock of green grass. I found a really good one and will use it here.
Maybe you don't believe me it's real grass because of the image quality, but trust me, it's grass.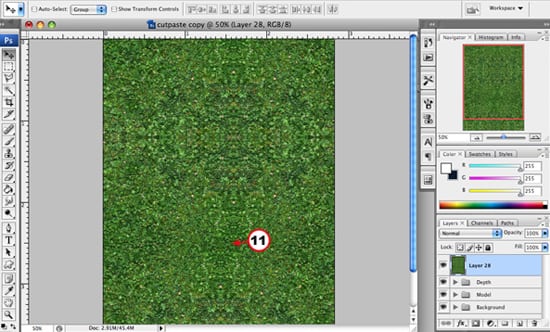 Now select your model layer by (shift +click on layer) as soon as you do that you will see a selection around your model. Just select inverse and hit delete.
If you won't you can use another pattern, with the selection still active on your model layer right click and choose fill from the menu, next choose your pattern and click ok. (this is optional)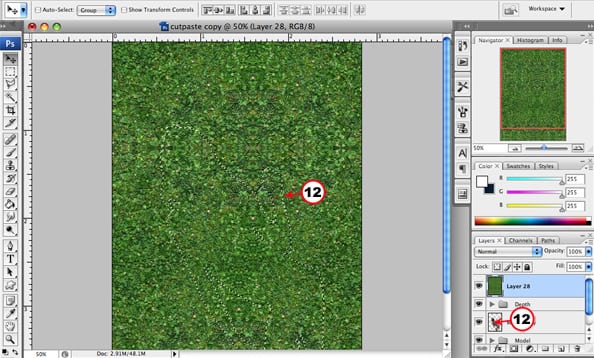 Ok, now change the layer style to Overlay, you might already like the effect but we are going to play a little bit more with it.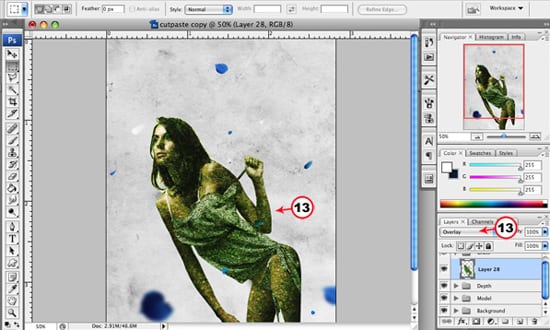 First thing let's change the colors, to do that go to Image>adjustments>hue/saturation and play with the colors until you find a nice color combination. Here is what I used.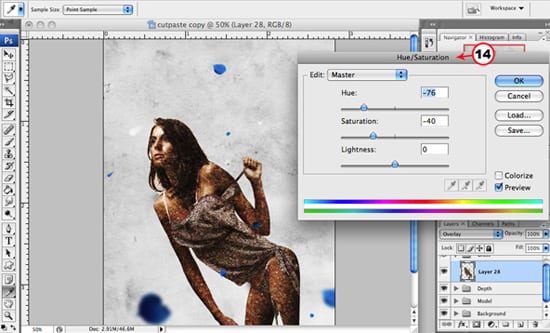 I changed the opacity of my grass layer a little bit because I found it stand out a little bit too much. Next step is cut out some of the grass layer. Just do something random.
Get your Lasso Tool and draw a bad circle or something, erase this selection from your grass layer and make nice effects. I erased a little bit of the models arm and face.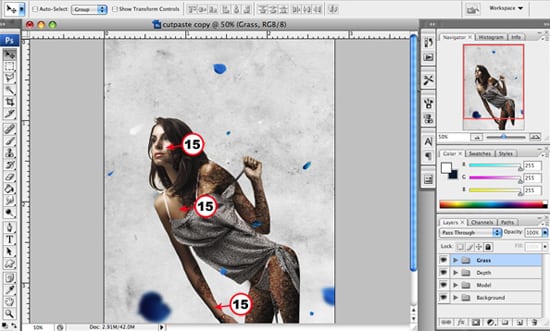 Next steps are easy and fun. Add a new group and call it color fun or something. Now add a new layer and chose a big round soft brush than start brushing around her butt with a crazy color.
When you are done change the layer style to screen or lightning by doing this you create some amazing and interesting effects.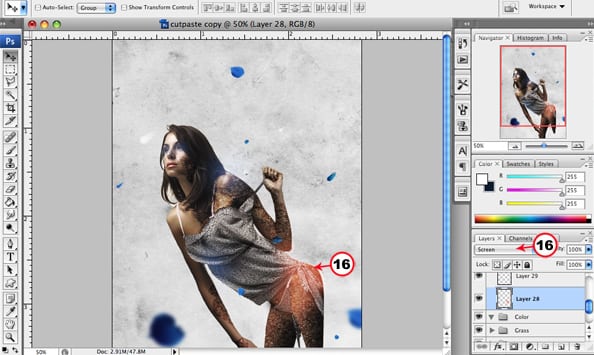 Ok I took my pen tool and made a random selection behind my model to add more contrast. After I filled this selection I took a brush with a softer color to add a sort of gradient on it.
Just play with it people. This step are not necessary of course.

Add some white brushes behind our model, to give it this grungy effect. You can make your own brushes by painting and scanning your paint strokes or download them.
You can see I added a typo and placed on of my brushes over it.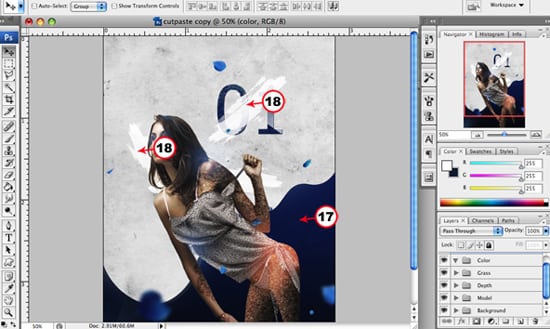 Alright easy fun step, Draw a new selection with your lasso tool and use this effect; Filter>Distort>Twirl I have to admit it takes a while till you find a nice twirl, but it's a quick and fun filter that you can use later.

I always like to add these dark spots in my work, I took my Lasso tool once again and draw a paint looking selection and filled it with our dark blue.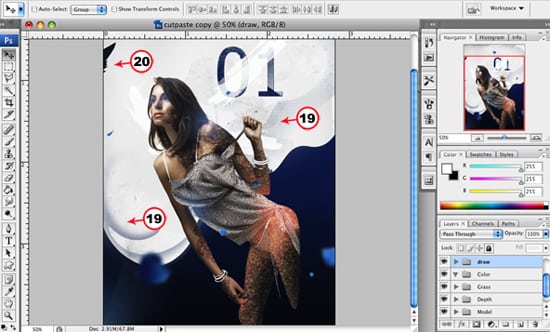 This is the final round, the following steps consists of objects I liked to add. Here I created a rocket looking object made of 3 different layers, every layer was made with my Lasso Tool and filled with a pattern.

I took a small soft round brush to sketch parts of her hair to add colors, not necessary but I tough It was fun to do.

I draw a balloon, added a texture over it and brushed with a white round soft brush to add lightning.

I illustrated some armbands to make her look sexy.
Final Result :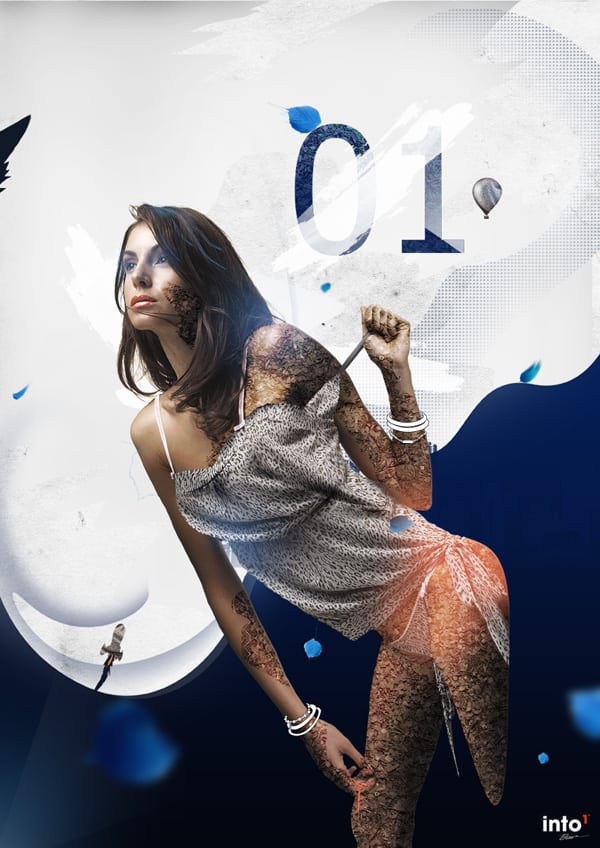 EXTRA:
Let's add some experimental blur. We have our final result, now save it and save as under yournameofthework_blur.psd or something. Flatten image and duplicate your layer.

Then go to Blur>Gaussian Blur and try to find a nice blur radius. Click ok.

I just selected a triangle looking selection and deleted this part in the blurry layer. You can cut more parts from this blurry layer. This is my extra final result.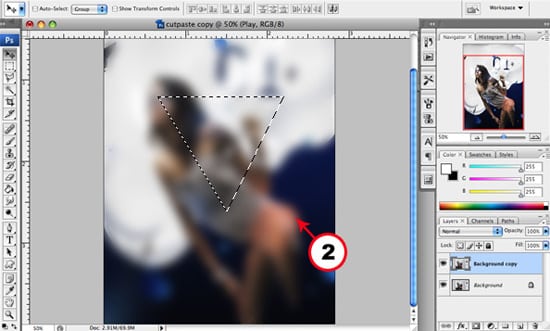 Final Result : Bulr added

For more info visit Bram's portfolio:http://www.into1.be/
I like to thank Bram for producing this cool Adobe Photoshop tutorial and i hope that you guys have learned some new skills along the way because we at TUTORIALBOARD.NET BELIEVE THAT YOU'VE GOT TO KNOW MORE!

Please leave your comments for anything related to this tutorial. Also make sure you Subscribe to our Feed or Follow Me on Twitter to stay updated to the lattes tutorials, news and interviews in the graphic community.